Care Infrastructures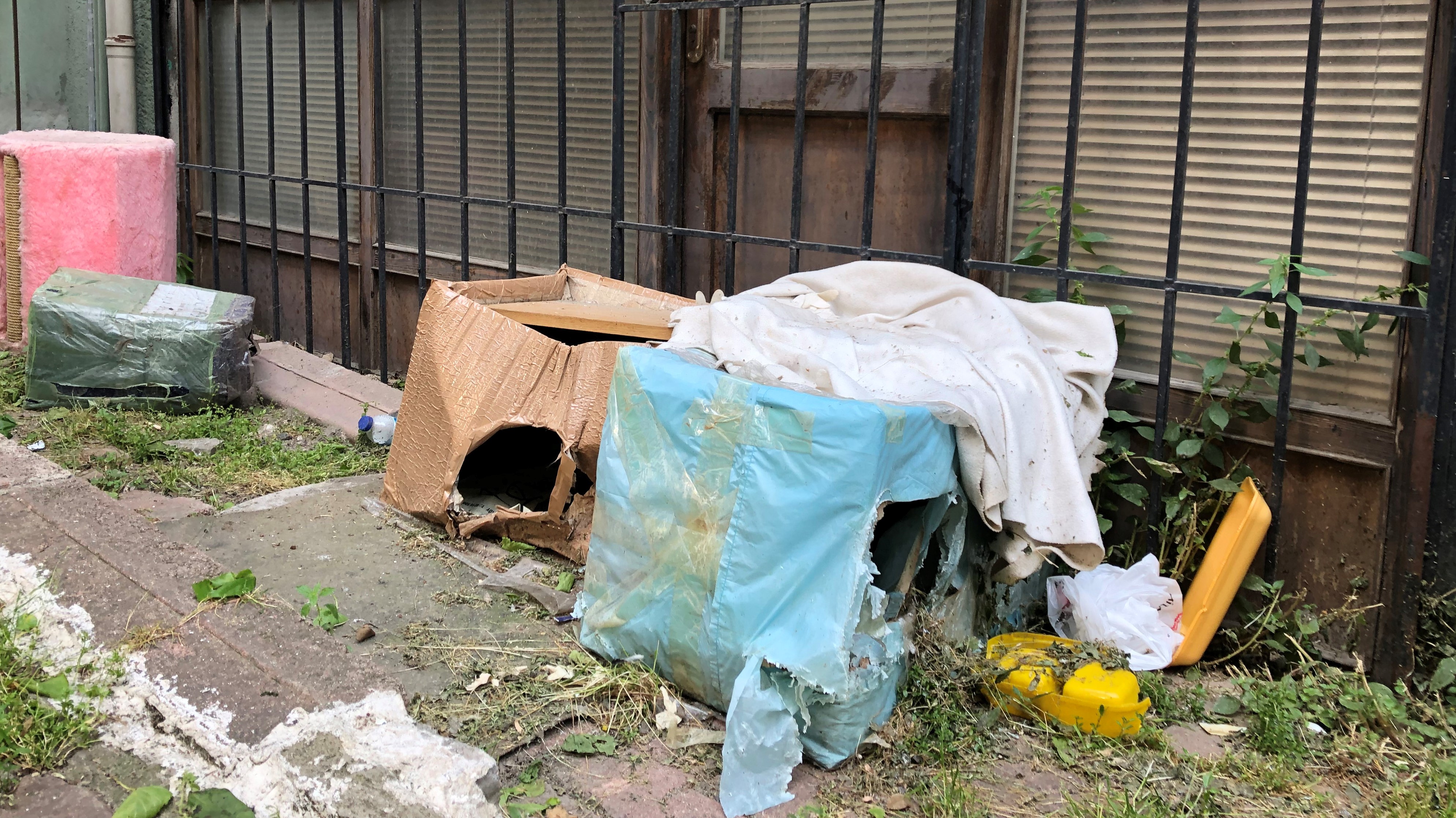 Dis/media Assemblages Surrounding the Care for Street Cats of Istanbul
Talk at EASST/4S 2020
Read the abstract below.

Once with determined tasks with regards to the sustainable functioning of the city (Atauz 2002, Pinguet 2010, Zeybek 2014), street cats of Istanbul, with an estimated population of 125.000 (2017), are neither workers nor customers (Atauz 2002, Zeybek 2014); they are unemployed, idle and vulnerable following the (re)shaping of urban technologies of modern living. Street animals' right to the city (thus to life) is a recurring theme on Turkish national and social media coupled with the urge to 'protect' these animals, on banners the local municipalities are placing within the city reminding the citizens of the 5199 Animal Protection Law, and in the more-than-human geographies Istanbul's citizens are carving for street cats in particular which populate the streets of Istanbul in districts such as Cihangir. Informed by an anthropology beyond humanity (Ingold 2013) and STS, this research is based on in-situ observations of technologies of care involving street cats of Istanbul, Istanbul's citizens, local municipalities and other actors. I argue that the different (inter)action strategies of these actors regarding the street cat issue shape a landscape of various media, in different formats and on different scales within the triangle of state, media and non/human entities, which can be interpreted through dis/media assemblages. Arguing against the ableist notion conceptualizing domesticated animals as weak due to their dependency (Taylor 2014), this paper explores the ways in which dis/media assemblages justify and encourage care for street cats, all the while reproducing an ableist, and sometimes anthropomorphic, rhetoric.

—

Conference Presentation, 2020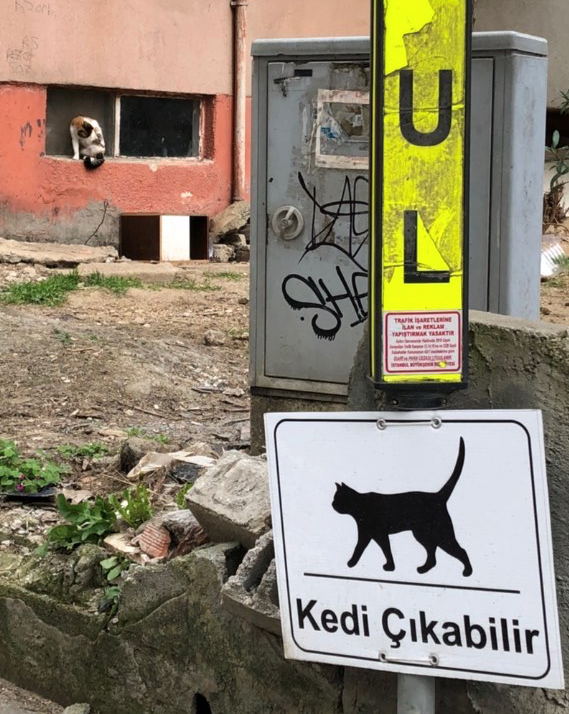 Photograph: Burak Taşdizen
---
Feline Entanglements –
Commons, Compassion, and Care
Conversation with Milan Vukašinović
"

In what, at first sight, might seem to be unaesthetic piles of cardboard boxes and plastic containers abandoned on the side of the road, Burak sees rational "solutions and designerly knowledge productions": Isolation and insulation of "construction" materials, availability of food and water supplies, clustering of individual units in order to stimulate feline sociability and ensure longer habitation.

In-between Burak's remarks confirm some of my hunches about urban cats navigating that narrow, compressed, slippery ground—the commons ground—situated in-between the private and the public, with regards to property, space, and agency. The municipalities like Kadıköy and Şişli claim in their official communication the public space of the street to be the cats' natural habitat, and the local authorities their primary protectors. But "infrastructures such as those built on windows, or near apartment facades or in apartment backyards challenge the conventional definitions of street cat's habitat… and the issue gets more convoluted when cats start moving from the street to common areas (ortak alan) such as apartment backyards, where a more one-on-one care can be developed between the care giver citizen and the care receiver street cat." – says Burak.


"
—

Taken from @anamed_ku.
Photograph: Milan Vukašinović
İnsanın Dışında, Tasarımın Ötesinde:
Sokak Kedileri, Geçici Birleştirmeler
ve Tasarım Aktivizmi
A banner by Şişli Municipality of Istanbul reminding citizens of 5199 Animal Protection Law. Photograph: Burak Taşdizen.
Scroll below for English.

Bu araştırma, İstanbul'daki sokak kedileri için yapılmış vatandaş güdümlü geçici birleştirmeler üzerinden yerelde sokak kedileri için ne tür bakım ağları inşa edildiğine bakar; bunun tasarım aktivizmiyle nasıl ilişkilenebileceği sorularını sorar. Geçici birleştirmeler, en az önceliklendirdiği sokak kedileri grubu kadar savunmasız: Şehrin akışı içerisinde farklı aktörlerin müdahalesine (ekleme, çıkarma, yok etme) açık olmaları onları birleştirme yapan temel sebep. Temellendirilmiş Kuram yaklaşımıyla yürüttüğüm araştırmadaki savım, olumlu toplumsal dönüşümü ihmal edilmiş bir hayvan nüfusunun iyi oluşu özelinde hedefleyen bir karşı anlatıyı nesneler ve mekanlar üzerinden yaratan ve vatandaşların şehre dair tahayyüllerini açığa çıkararak şehrin nasıl tasarlanabileceğine dair olasılıklara işaret eden geçici birleştirmeleri tasarım aktivizmi olarak okuyabileceğimiz.

—

Following a Grounded Theory approach, this research focuses on citizen-led care networks; temporary assemblages, built and maintained for the street cats of Istanbul and scrutinizes the design activist potentials of these assemblages. Temporary assemblages are as vulnerable as the street cat population they serve: The main reason behind their temporality is their vulnerability towards the intervention of different actors (adding, removing, disposing). Because these assemblages create a counter-narrative over things and spaces aiming for positive societal change to ensure the well-being of a neglected animal population and point to potentials as to how the city could be shaped, they could be interpreted as design activist practices.

—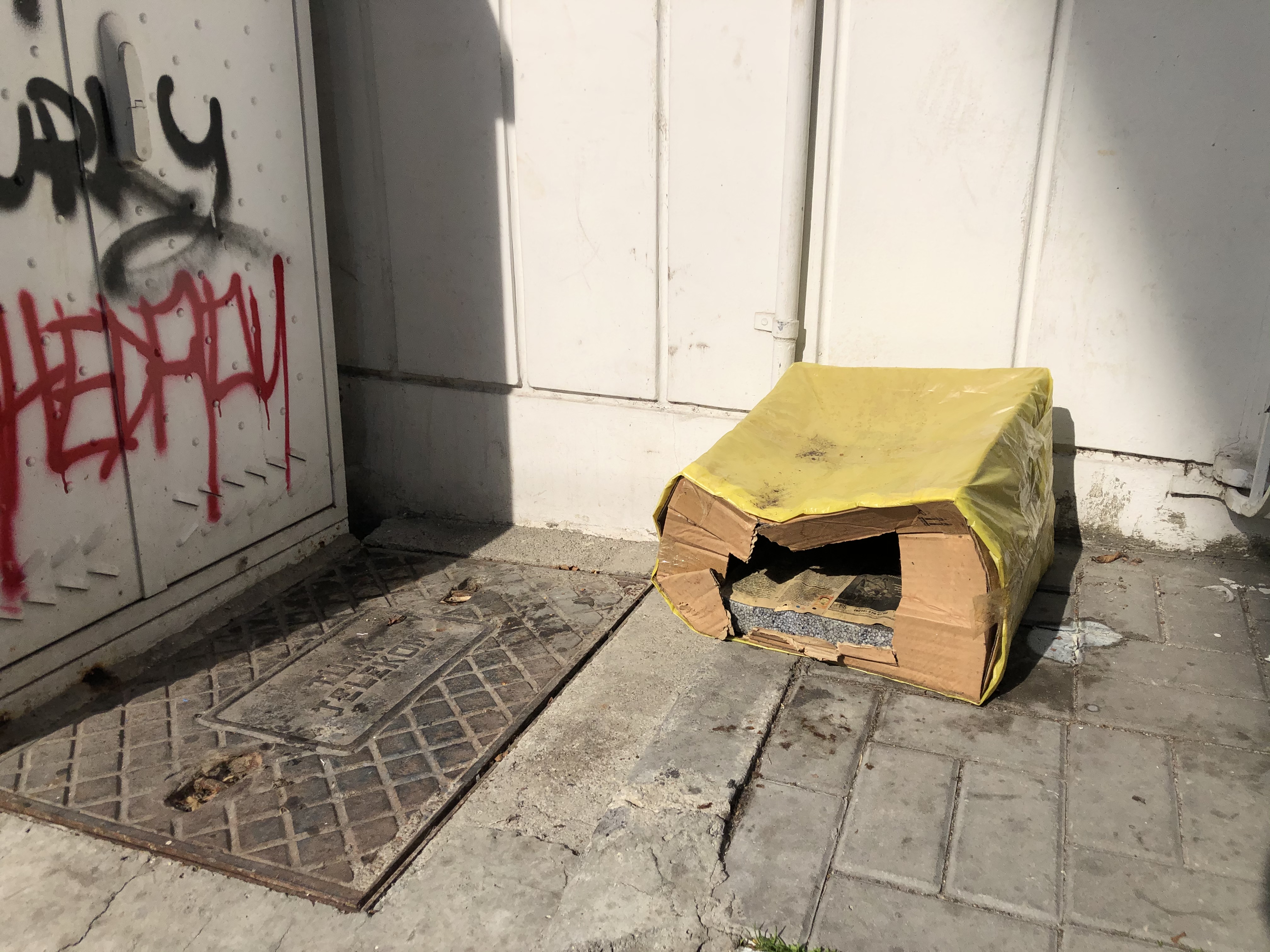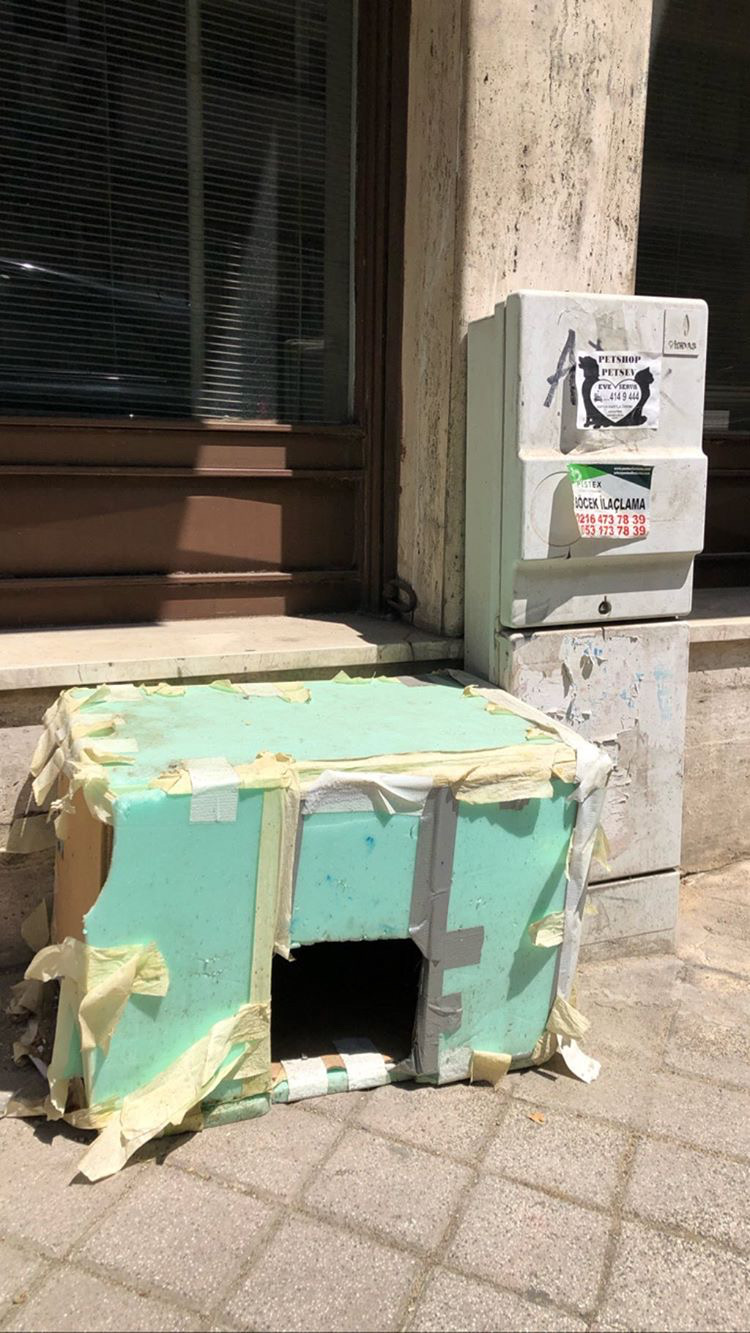 Photographs: Burak Taşdizen
Imagining a more-than-human
Istanbul / İnsandan öte bir
İstanbul düşlemek

Book (Forthcoming)

This book documents the ethnographic research on the citizen-led temporary assemblages, water, food, and shelter networks built and maintained for the well-being of street cats in Istanbul and scrutinizes the design activist potentials of these assemblages. Each of these assemblages, designed and maintained in an open and flexible nature through the upcycling of waste to ensure the well-being of a neglected animal population, are design activist practices for they create a counter-narrative over things and spaces aiming positive societal change and reveal citizens' socio-technical imaginaries as to how a more-than-human city could be shaped.

—
2019—Ongoing

Funded by Center for Spatial Justice︎
İnsanın Dışında, Tasarımın Ötesinde:
Sokak Hayvanları, Geçici Birleştirmeler
ve Tasarım Aktivizmi

Talk




MAD Research Workshop, 28 December 2019
Center for Spatial Justice, Istanbul
—