Taşdizen_dissertation-project.html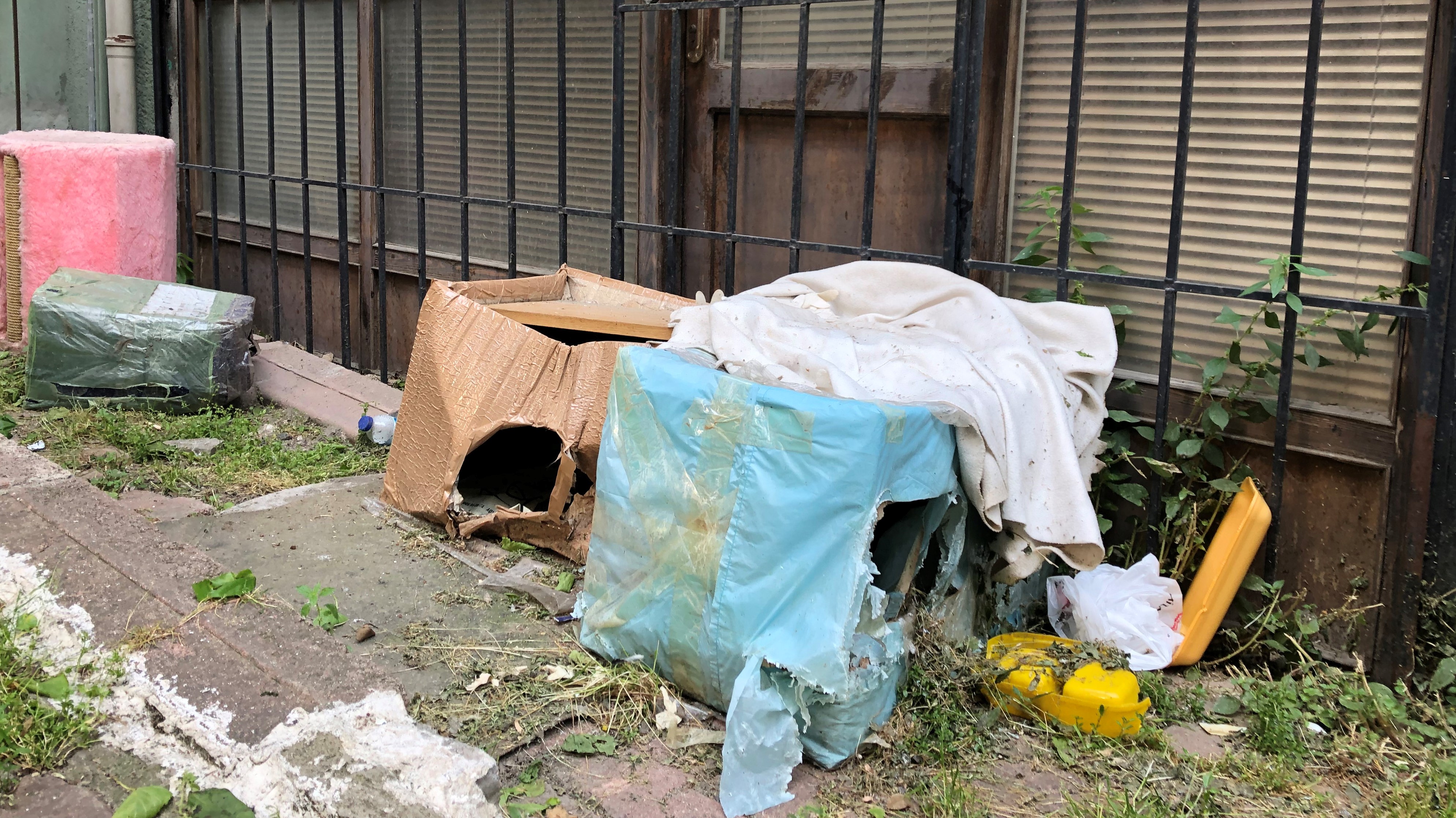 İnsanın Dışında, Tasarımın Ötesinde:
Sokak Kedileri, Geçici Birleştirmeler
ve Tasarım Aktivizmi
Book Section (Forthcoming)
A banner by Şişli Municipality of Istanbul reminding citizens of 5199 Animal Protection Law. Photograph: Burak Taşdizen.
Scroll below for English.

Bu araştırma, İstanbul'daki sokak kedileri için yapılmış vatandaş güdümlü geçici birleştirmeler üzerinden yerelde sokak kedileri için ne tür bakım ağları inşa edildiğine bakar; bunun tasarım aktivizmiyle nasıl ilişkilenebileceği sorularını sorar. Geçici birleştirmeler, en az önceliklendirdiği sokak kedileri grubu kadar savunmasız: Şehrin akışı içerisinde farklı aktörlerin müdahalesine (ekleme, çıkarma, yok etme) açık olmaları onları birleştirme yapan temel sebep. Temellendirilmiş Kuram yaklaşımıyla yürüttüğüm araştırmadaki savım, olumlu toplumsal dönüşümü ihmal edilmiş bir hayvan nüfusunun iyi oluşu özelinde hedefleyen bir karşı anlatıyı nesneler ve mekanlar üzerinden yaratan ve vatandaşların şehre dair tahayyüllerini açığa çıkararak şehrin nasıl tasarlanabileceğine dair olasılıklara işaret eden geçici birleştirmeleri tasarım aktivizmi olarak okuyabileceğimiz.

—

Following a Grounded Theory approach, this research focuses on citizen-led care networks; temporary assemblages, built and maintained for the street cats of Istanbul and scrutinizes the design activist potentials of these assemblages. Temporary assemblages are as vulnerable as the street cat population they serve: The main reason behind their temporality is their vulnerability towards the intervention of different actors (adding, removing, disposing). Because these assemblages create a counter-narrative over things and spaces aiming for positive societal change to ensure the well-being of a neglected animal population and point to potentials as to how the city could be shaped, they could be interpreted as design activist practices.

—

2019—2020

Forthcoming in Türkiye'de STS (STS in Turkey Handbook) edited by Aydan Turanlı, Melike Şahinol and Arsev Aydınoğlu. Istanbul: İTÜ Vakfı Yayınları.
temporaryassemblages ︎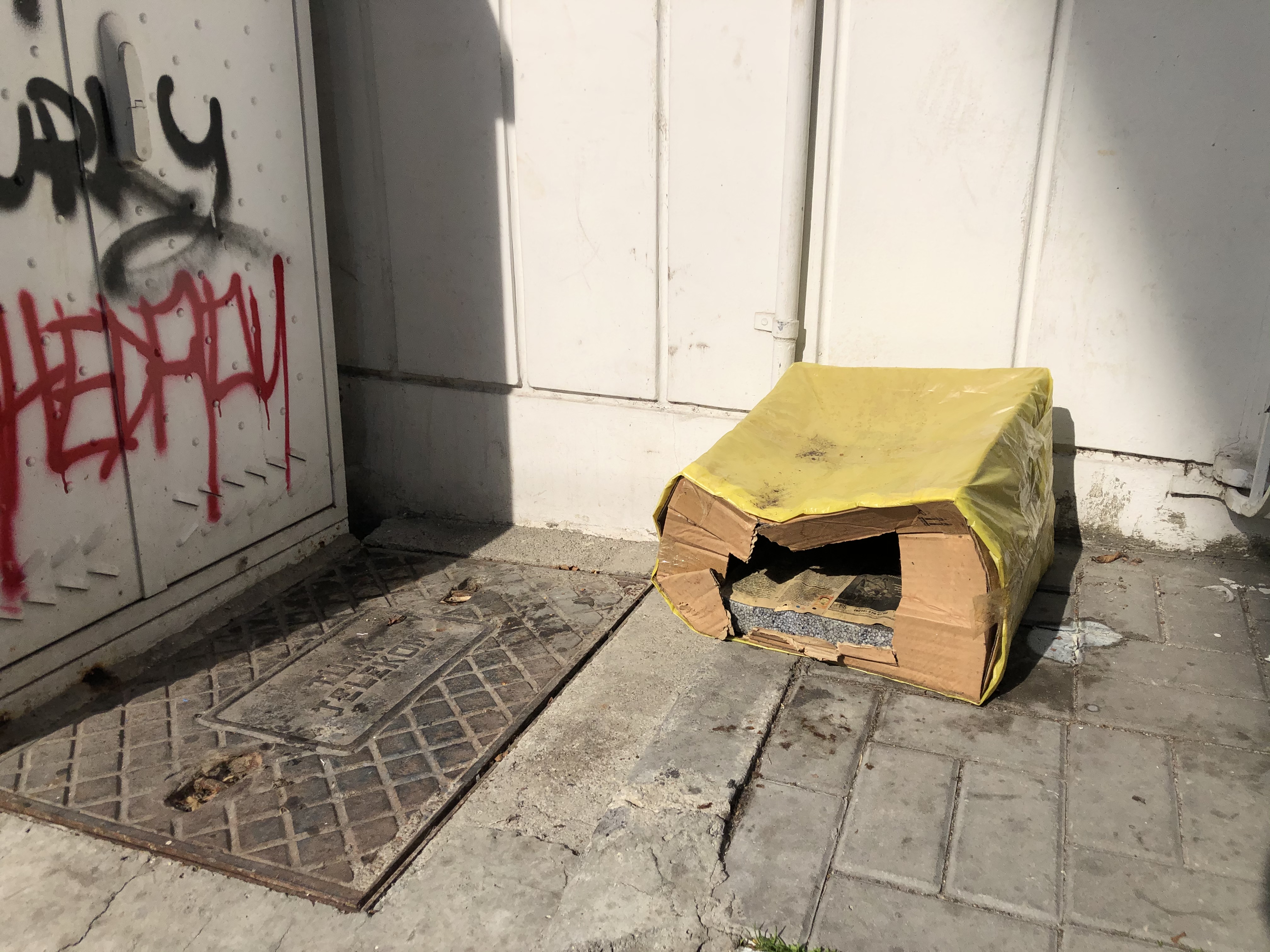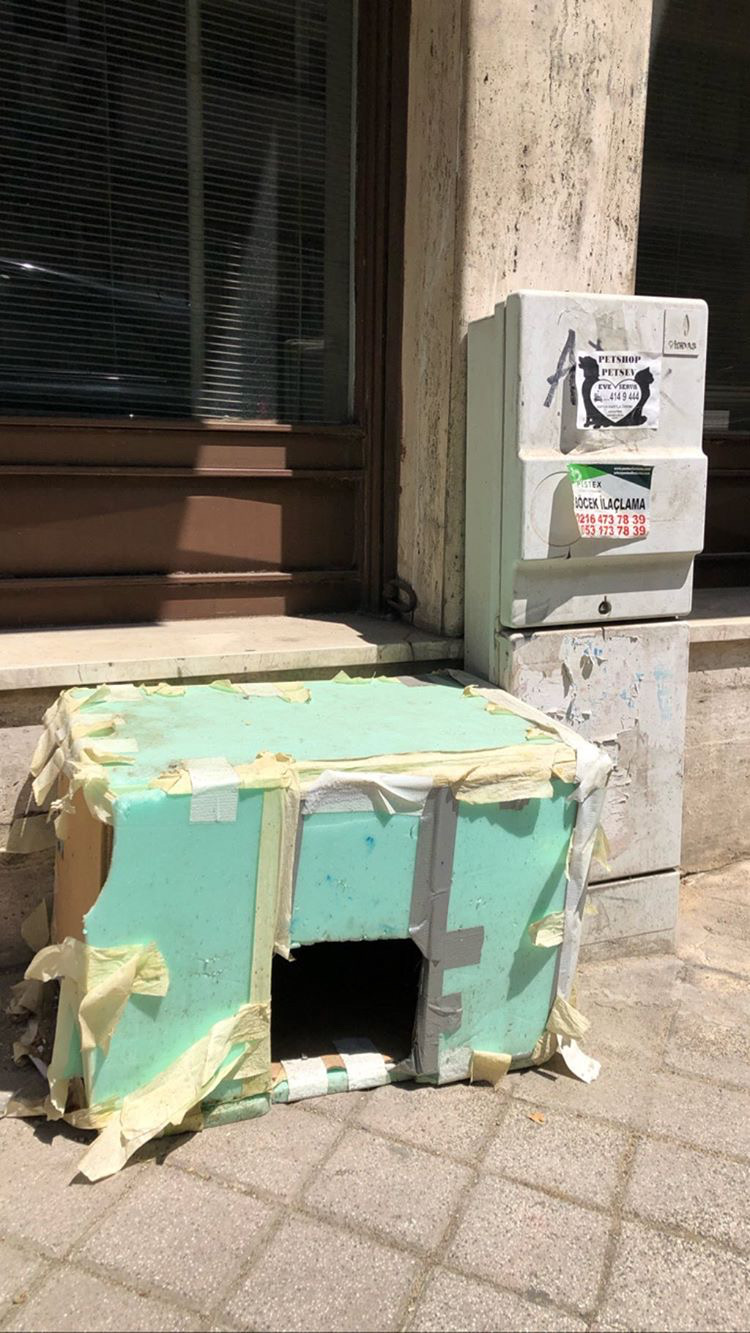 Photographs: Burak Taşdizen
Imagining a more-than-human
Istanbul / İnsandan öte bir
İstanbul düşlemek

Book (Forthcoming)

This book documents the ethnographic research on the citizen-led temporary assemblages, water, food, and shelter networks built and maintained for the well-being of street cats in Istanbul and scrutinizes the design activist potentials of these assemblages. Each of these assemblages, designed and maintained in an open and flexible nature through the upcycling of waste to ensure the well-being of a neglected animal population, are design activist practices for they create a counter-narrative over things and spaces aiming positive societal change and reveal citizens' socio-technical imaginaries as to how a more-than-human city could be shaped.

—
2019—Ongoing

Funded by Center for Spatial Justice︎
İnsanın Dışında, Tasarımın Ötesinde:
Sokak Hayvanları, Geçici Birleştirmeler
ve Tasarım Aktivizmi

Talk




MAD Research Workshop, 28 December 2019
Center for Spatial Justice, Istanbul
—