TEACHING
Taşdizen taught design studio at undergraduate level and conducted design workshops for non-designers at
Özyeğin University Department of Industrial Design
between 2016—2019. Taşdizen chooses to stay critical of mainstream design curricula, and attempts to attain pluralist understandings of designers beyond the trained designer, use scenarios beyond the anticipated and users beyond the "human".
CONDUCTED WORKSHOPS
Beyond its function
[
İşlevin ötesinde
]
Workshop Series, 2017—2019
Beyond its Function is a workshop series that explores the material affordances of objects with non-designer high-schoolers, participants who have an interest in but are not (yet) trained in design. The workshop aims to challenge and dissolve the prevalent notion of 'function' in design discourse, and challenges participants to think beyond conventional, designed functions towards engaged, materially unbounded interactions.
Beyond its Function started in 2017 by the research assistants Burak Taşdizen and Pelin Günay at Özyeğin University as part of
Özyeğin University Summer School for Highschool Students
Architecture and Design Module. The workshop continued in 2019.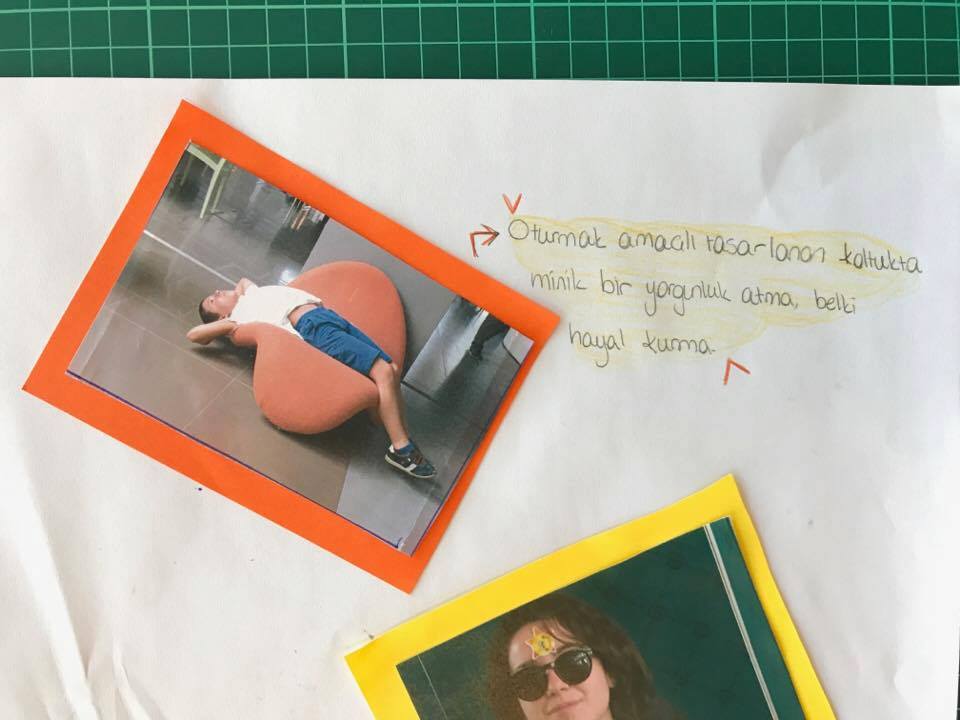 Participant works from Beyond its Function, 2017.
Photographs: Burak Taşdizen, Pelin Günay.
Becerikli İnsanlar
Workshop Series, 2017
Becerikli İnsanlar
is a workshop series that brings together amateur designers and design students to expand on the notion of design as a skilled practice, and to cultivate learning of skills outside institutional design curricula. The workshop series comprised of two successive workshop each of which focused on a different skill: knitting and sewing. The workshops were followed by a group reflection in the form of interviews and drawings. The workshop series was funded and hosted by Özyeğin University Faculty of Architecture and Design.
Participant drawing from Becerikli İnsanlar, 2017.
Photograph: Burak Taşdizen.
SUPERVISED DESIGN STUDIO
In his syllabi-writing, Taşdizen consciously deconstructs market-driven product categories utilizing a thematic approach intertwined with a focus on novel everyday user_designer practices. Below is a list of selected design studios Taşdizen has (co)supervised.
Drones beyond Military
with Ali İlhan and Şule Koç
Healthy Food Networks
with Ali İlhan and Şule Koç
Form Studies
with Işıl Oygür
Transforming Furniture
with Işıl Oygür
INVITED LECTURES
2021: "Care as Design: Urban Cats and Affordance Assemblages of Istanbul"
ITU Industrial Design
Contemporary Issues in Design delivered by Prof. Çiğdem Kaya
2017: "Politics of the Knitting Pattern: Ethnography of Knitting Practice and a Women's Knitting Community"
Istanbul Medipol University
Industrial Design Research in Design delivered by Prof. Özlem Er
---
LEARNING
Taşdizen participated and continues to participate in various local and cross-cultural (non)academic gatherings exercising critical pedagogies to challenge designed frameworks of oppression in both urban and rural environments, and to critically scrutinise anthropological methodologies to understand and represent these phenomena. He took on various roles such as facilitator, researcher, and learner in these learning programmes. Below is a selected list of events in which he participated.
ATTENDED ACADEMIC WORKSHOPS
"Designs of the Oppressed"
Organisers: UTFPR, in partnership with the Design & Oppression Network and Andifes
Online, 2021
"Social Media and/as Urban Research: A Workshop for Beginners"
Organisers: Andrea Ballatore
,
Scott Rodgers,
Sara Rodriguez
Online, 2021
"A New Social Cartography: This is not an Atlas!"
Organisers: Center for Spatial Justice & Kollektiv Orangotango
Istanbul, Turkey, 2019
"MAD Araştırma Çalıştayı"
Organiser: Center for Spatial Justice
Istanbul, Turkey, 2019
"Urban Political Ecology on the Road"
Organiser: Center for Spatial Justice
Istanbul, Turkey, 2019
"Türkiye'de Erkeklik Çalışmaları: Sorunlar ve İmkânlar"
Organiser: Eleştirel Erkeklik İncelemeleri İnisiyatifi
Özyeğin University, Istanbul, Turkey, 2019
RESIDENCIES
"Fictional Protocols and Desirable Futures"
Garp Sessions 2020 Residency
Babakale, Çanakkale, Turkey, August 2020

"Off the Beaten Track" Anthropology Field School
Expeditions – Research in Applied Anthropology
Gozo, Malta, July - August 2019

"Field Notebook as a Research Tool/Apparatus"
Gümüşlük Akademisi, Bodrum, Turkey, July 2018

INFORMAL LEARNING

Graduate Forum
Organiser: Harun Kaygan
Middle East Technical University, Ankara, Turkey, 2014-2017

"Örgü Kursu"
As part of ethnographic fieldwork
Ankara, Turkey, 2015-2016