TEACHING &
SUPERVISION
I taught design studio at undergraduate level and conducted design workshops for non-designers at
Özyeğin University Department of Industrial Design
between 2016—2019. I choose to stay critical of mainstream design curricula, and follow pluralist understandings of designers beyond the trained designer, use scenarios beyond the anticipated and users beyond the "human".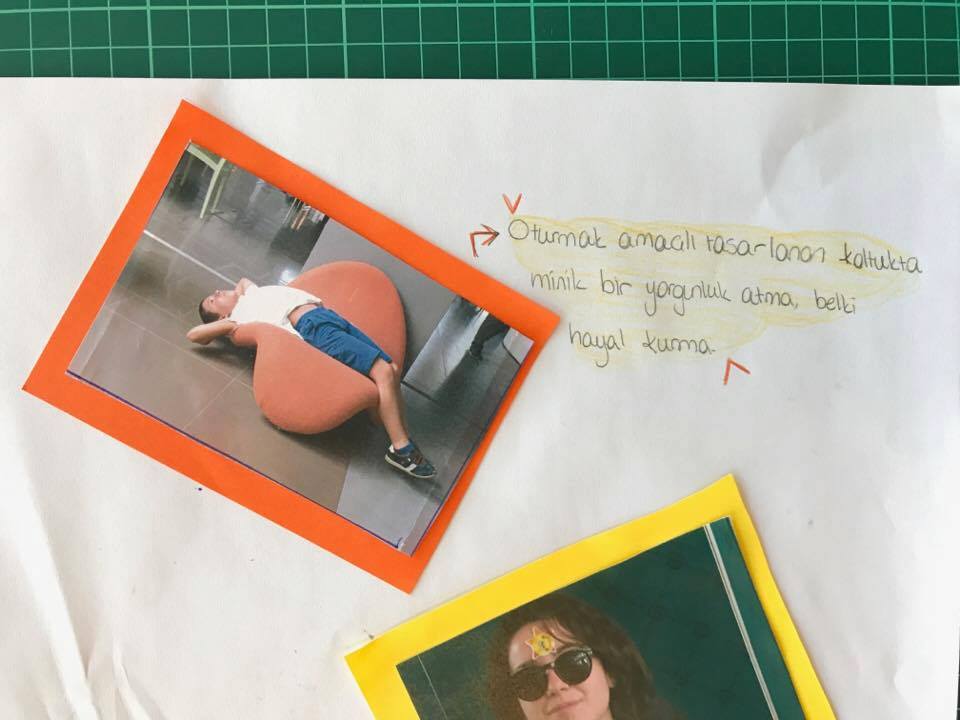 Participant works from Beyond its Function, 2017.
Photographs: Burak Taşdizen, Pelin Günay.
CONDUCTED WORKSHOPS

Beyond its function
[İşlevin ötesinde]
Workshop Series, 2017—2019

Beyond its Function is a workshop series that explores the material affordances of objects with non-designer high-schoolers, participants who have an interest in but are not (yet) trained in design. The workshop aims to challenge and dissolve the prevalent notion of 'function' in design discourse, and challenges participants to think beyond conventional, designed functions towards engaged, materially unbounded interactions.

Beyond its Function started in 2017 by the research assistants Burak Taşdizen and Pelin Günay at Özyeğin University as part of Özyeğin University Summer School for Highschool Students Architecture and Design Module. The workshop continued in 2019.

Becerikli İnsanlar
Workshop Series, 2017

Becerikli İnsanlar is a workshop series that brings together amateur designers and design students to expand on the notion of design as a skilled practice, and to cultivate learning of skills outside institutional design curricula. The workshop series comprised of two successive workshop each of which focused on a different skill: knitting and sewing. The workshops were followed by a group reflection in the form of interviews and drawings. The workshop series was hosted and funded by Özyeğin University Faculty of Architecture and Design.
SUPERVISED GRADUATION PROJECT

2021 - 2022 Spring: Dikris Koyuncu
Istanbul Bilgi University Department of Industrial Design

SUPERVISED DESIGN STUDIO

In my syllabi-writing, I consciously deconstruct market-driven product categories utilizing a thematic approach intertwined with a focus on novel everyday user_designer practices. Below is a list of selected design studios I have co-supervised.

Drones beyond Military
with Ali İlhan and Şule Koç

Healthy Food Networks
with Ali İlhan and Şule Koç

Form Studies
with Işıl Oygür

Transforming Furniture
with Işıl Oygür

INVITED LECTURES

"Tasarım-Bakım Dolanıklıkları: Alanyazının Konuştukları", at Poedat Gelecek Çalışmaları, 28 August 2021.

"Tasarımı İnsan Olmayanlara Açmak: Sahanın Söyledikleri", at Poedat Gelecek Çalışmaları, 28 August 2021.

"Care as Design: Urban Cats and Affordance Assemblages of Istanbul", at ITU Industrial Design, Contemporary Issues in Design by Çiğdem Kaya, 2021.

"Politics of the Knitting Pattern: Ethnography of Knitting Practice and a Women's Knitting Community", at Istanbul Medipol University Industrial Design, Research in Design by Özlem Er, 2017.