tofa
---
METU Department of Industrial Design 2014 Graduation Projects Exhibition
---
a waiting area seating that enhances waiting experience while emphasizing user diversity and dynamism.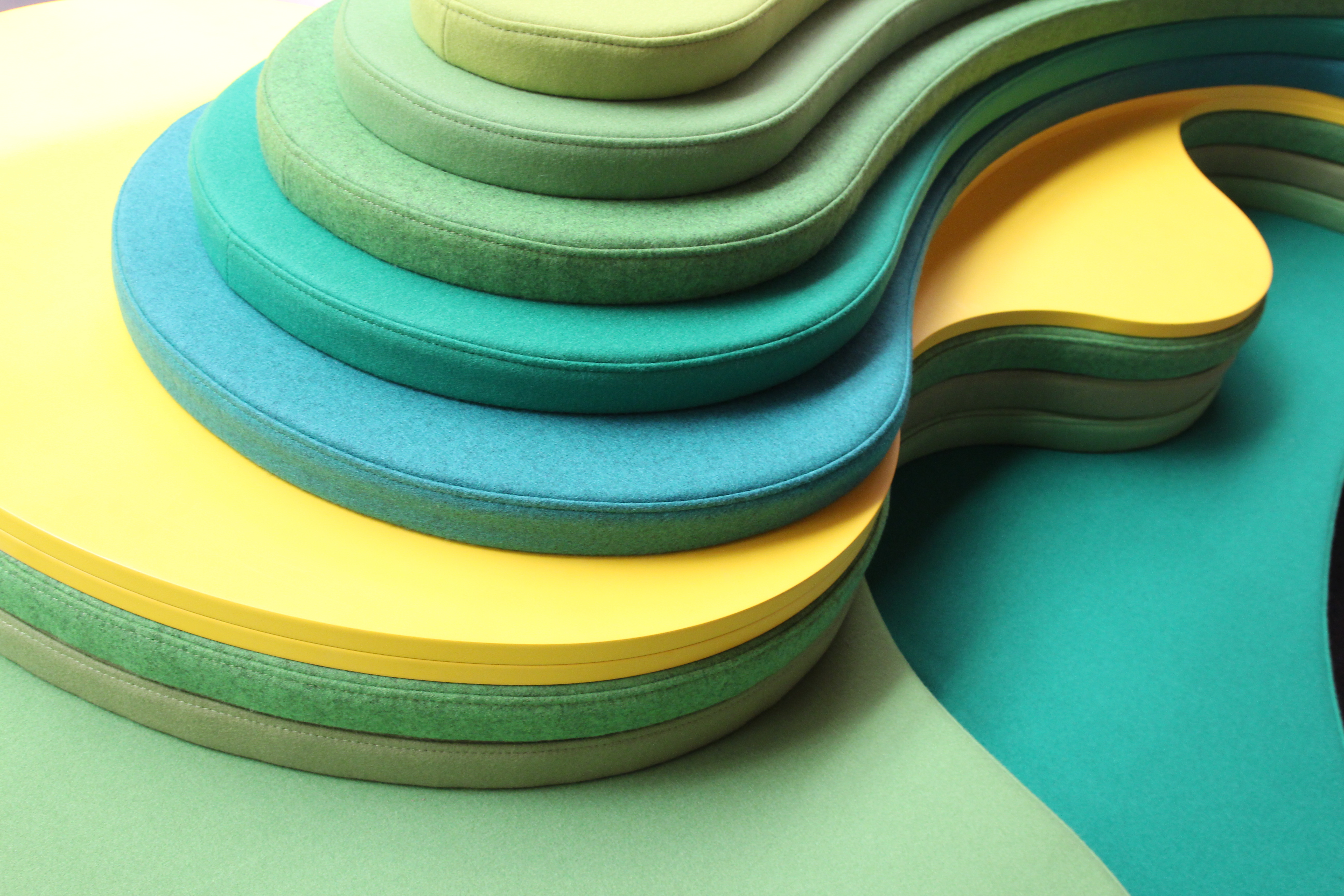 ABSTRACT
Inspired by topography, tofa tells different stories in that environment it reshapes. It supports both individuals and social groups in both short term and long term waiting scenarios. The layers enable two different sitting positions; one being more settled and the other more short term and ready to go. This difference in height also draws boundaries between short term and long term waiting, considering the circulation of people. The layers in the backrest define social and isolated areas, each of which also enables the other scenario carrying in mind the diverse user group and their possible alternative approaches to the furniture. Two rigid layers on top of each other define areas for fast working, and for power supply integrations, which are harmonious with the whole look avoiding eclecticism. Layered structure enables easy adaptation to different interiors by changing colours and textures. Tofa invites users to reconnect to the nature, break and set their personal boundaries and redefine waiting experience.


KEYWORDS
Waiting Area, Seating, User Diversity, Dynamism

---
ÖZET
Topoğrafyadan ilham alınarak tasarlanan tofa, yeniden şekillendirdiği mekanda farklı öyküler anlatıyor. Hem bireysel kullanıcıları hem de sosyal grupları ağırlarken kısa ve uzun süreli bekleme senaryolarını destekliyor. Katmanlar iki farklı oturma pozisyonu sağlıyor; biri daha yerleşik, diğeri ise kısa süreli ve kalkmaya hazır. Bu yükselti farkı aynı zamanda, kullanıcı sirkülasyonunu düşünerek kısa ve uzun süreli beklemelerin sınırını çiziyor. Sırtlıktaki katmanlar bir yandan sosyal ve bireysel alanları tanımlarken, diğer yandan çeşitli kullanıcıların mobilyaya olan farklı yaklaşımlarını da göz önünde tutarak diğer senaryoyu da mümkün kılıyor. Genel görünümle uyum içerisindeki birbiri üzerindeki iki sert yüzey hızlı çalışma ve priz entegrasyonları için alan tanımlıyor. Katmanlı yapı renk ve dokuların değişimiyle farklı mekanlara kolay uyum sağlıyor. Tofa, kullanıcıları doğayla yeniden bağ kurmaya, kişisel sınırları kırıp yeniden inşa etmeye ve bekleme deneyimini yeniden tanımlamaya davet ediyor.


ANAHTAR KELİMELER
Bekleme Alanı, Oturma, Kullanıcı Çeşitliliği, Dinamizm


Photographs: Alev Sönmez